Looking for the ultimate, one-of-a-kind taste of a Minnesota experience? Visiting or living in Minneapolis and Saint Paul during fall or winter?
Well, you can't say you had fun in Minnesota if you don't experience curling (or maybe eat a Jucy Lucy).
If curling is on your bucket list, Frogtown Curling Club has you covered! (We can help you pick a burger place too.)
Come join us for a three-hour curling and teambuilding experience in the heart of Saint Paul.
Frogtown is easily reached from anywhere in the Twin Cities.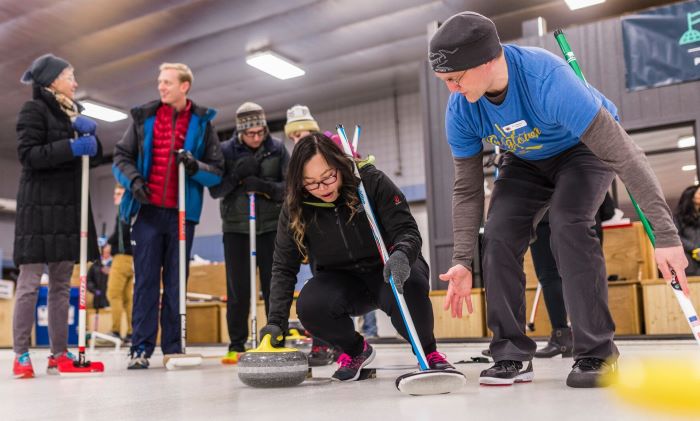 How it works
Want to get your friends together for a curling party or have a corporate a team building event. Here is the scoop…
Our learn to curl program is available for private groups of 8 to 50 people on the ice during the week Monday - Thursday 11 AM to 4 PM, and most Fridays and weekends from early October through April. We can accomodate groups larger than 50 with a little rotating of on-ice time.
Sessions last 3 hours and can be tailored to fit your groups experience level. We teach you the basics of curling and have you off and playing during a fun afternoon or evening session. During a curling clinic you will learn the terms, rules, and sportsmanship of curling with a brief classroom style instruction.
Once you have the basic information-- such as ice is slippery, rocks are heavy, and both are very hard-- you'll head out to the ice for instruction on form and techniques of throwing stones and sweeping. The remaining time is yours to scrimmage or practice. Instructors stay with the groups until they are comfortable on the ice and have the game well in hand. Instructors remain available throughout for tips and advice as needed.
How to Book
We'll be happy to discuss pricing, availability, and any questions with you. Because our hours and staffing varies please reach out and leave us a message so we can get in touch with you.
Email the club at

This email address is being protected from spambots. You need JavaScript enabled to view it.

Or call 651-558-2200 and leave a message
Let us know:
Number of people in your group
Date(s) you are interested in
Start time you are interested in

Sessions are 3-hours and can start:

between 11a-1pm Mon-Thurs
between 11a-1pm Friday, with later afternoon and evening hours available select Friday's during the season
starting hours vary on Saturday
What About Drop-In/Open Curling?
Due to nightly leagues and group-events we do not offer regular open curling sessions. Keep an eye on this site for the occasional public learn-to-curl session. Better yet-- talk to your friends and get your own group together!
What to Bring?
Everyone should carry in a separate pair of clean rubber-soled tennis shoes

To keep the ice clean you should carry these shoes in and change at the arena.
Ice is slippery! Make sure these clean shoes have good traction.
Do not wear boots with metal grommet- they scratch the ice. Think clean tennis shoes.

Wear warm flexible clothing in layers

The arena portion of the club is not heated - if it's cold outside, it's cold inside. (We have a very nice, heated club room to warm up in!)
Jeans usually aren't very flexible. (We try to keep duct tape on hand for repairs.)
As you play, you'll warm up from sweeping and walking - dress in layers so you can cool down and warm up as needed.